Published October 2016, 109 pages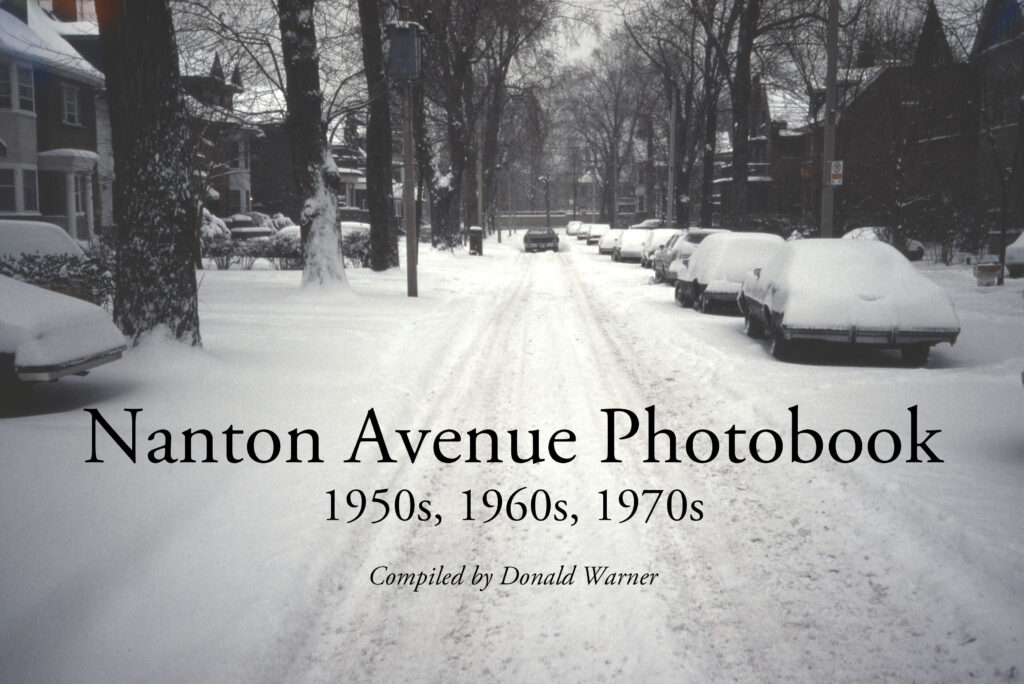 This book is not a definitive history of Nanton Avenue during the 1950s, 1960s, 1970s. Rather it is an attempt on my part to inform readers who the people were who lived on our street during this era, what the street looked like back in those days and what we ourselves looked like. I have been able to compile a fairly comprehensive list of who the families were who lived in the different houses, by perusing the voters' lists from 4 federal elections dated 1957, 1963, 1965 and 1974 (my sincere thanks to Julia Seed McIlvride for sourcing these for me).
The voters' lists do not list the children of course and it is the kids, who, in the opinion of myself and many others, made Nanton the very special street that it was in those days. Some people think there might have been as many as 100 kids on Nanton, though my study suggests the figure was nowhere near triple figures. Whatever the total number of children was, there is no denying that for a street the size of Nanton, there were a heck of a lot of kids during the 1950s – 1970s era. You will see numerous photos of kids in this book but you will also see lots of photos of the parents. On Nanton, the kids played together constantly and the parents also socialized together quite regularly. I received a few family photos from people and there is a short narrative about those families to go with these family photos. I invited Nantonians to send me any special recollections/stories/anecdotes that they could remember from those days and sincerely thank all those who took the time to do so. You will find some amusing, heartfelt and insightful memories in this book.
I also went out on a limb and have included a section entitled 'Notable Nantonians' – which includes a few lines and sometimes an accompanying photo about the person deemed (by me) to be 'notable'.
At the end of this book there are 20 pages of photos taken at the memorable
2015 Nanton Avenue Reunion party at The Pilot which show what a lot of us look like all these years later!
There is considerable information in this book and numerous dates are quoted. I have tried to be diligent in checking the details, however, mistakes may have occurred and my own recollection and the recollections of others of different events may not always be accurate.
I hope you will enjoy this book for what I have intended it to be. 'A walk back in time down a terrific street in South Rosedale'. Nanton Avenue is a street worth celebrating and commemorating!
Table of Contents
109 pages
Background and about this book
Table of contents
Notes
House #, year completed, occupants (west side)
House #, year completed, occupants (east side)
Honorary Nantonians
Historical plaques
The former Nanton Court Complex
What Nanton used to look like (including big snowstorms)
What made Nanton so special?
Nantonia
The kids of Nanton
Ball/road hockey
Plays in the Greers' basement
Summertime fun
Kids' birthday parties
Parents' social gatherings
Nanton Avenue street parties 1978-79
Views from the fringes of South Rosedale
February 1964 – a memorable month on Nanton
Family group photos
Miscellaneous photos
Recollections & anecdotes from 14 Nantonians
24 Notable Nantonians
Snippets
49 Nanton Ave – a bit more about this historic house
Backyards & driveways
Miscellaneous Photos including post-1970s get-togethers
Nanton Ave reunion at The Pilot, September 2015
Acknowledgements